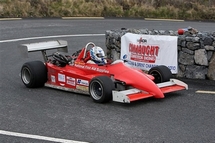 McKINLEY'S TITLE
5 September 2010
The Connaught Competition Engines Hillclimb Championship season drew to a close with a thrilling finale in Donegal. With several class positions to be settled and the overall result in the balance, a host of hillclimb regulars made the annual pilgrimage to Knockalla for the two final rounds.
Saturday began wet and windy but progressively dried leaving the famous Donegal hillclimb in excellent condition.
The overall battle looked set to be electric and boy, did it deliver! Paul O'Connell needed two second place finishes each day to secure the championship for a record-breaking fourth time, while Simon McKinley needed to win both days and hope that someone else would push O'Connell down to third place.
From the start, McKinley was on a mission in his Connaught Warrior powered Lant. On Saturday, he shattered the previous record held by the late John Leinster not once, but twice. O'Connell played the waiting game and brought his Pilbeam-Hart home over a second adrift, but second place still left him on course for the title. Seamus Morris, who could have done McKinley a favour by beating O'Connell, ran into clutch problems that sidelined his Pilbeam-Vauxhall for the day. He eventually took up the offer of a double drive in O'Connell's 'second string' car, the Delta-Warrior, to record a points scoring position.
In overcast conditions for practice on Sunday morning, O'Connell was one of the first single seaters to run and clearly in fighting form, with a practice time only 0.3sec slower than his previous day's best. Then disaster struck after the finish as he tried to slow the car, which became unsettled, spun and took off three corners. All credit to the Donegal club and the emergency services, who were on the scene very quickly although happily, the driver emerged in one piece.
This left O'Connell with his trusty Delta in which to compete. For once, though, it let him down, stripping third gear and putting paid to any hopes of challenging for this year's title.
So in a dramatic end to the championship year, McKinley went on to again shatter his previous record, leaving it at 37.97sec and taking the spoils as the well-deserved Irish Hillclimb champion for 2010.
Back