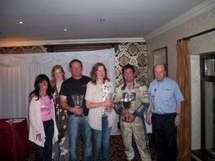 IRISH HILLCLIMB DINNER – 2010
1 September 2010
The end-of-season prizegiving dinner and awards ceremony for the Connaught Competition Engines Irish Hillclimb and Sprint Championship will take place on Saturday, 16th October.
The venue is the centrally located Tullamore CourtHotel in Tullamore, Co Offaly. This modern 4-star hotel has many modern facilities such as a leisure centre with swimming pool, complimentary broadband and 104 beautifully appointed rooms.
Tickets for the awards dinner and ceremony are priced at €35 and will include a 3-course meal from the hotel's award-winning restaurant.
Tickets are available by firstly ringing Paul O'Connell on 087 2055095 and then by posting the required sum to: Paul O' Connell, The Cottage, Crecora, Co Limerick.
There are only a limited number of spaces available, so they will be allocated on a first come, first served basis.Rooms in the TullamoreCourtHotel are normally €75, but a limited number are available at a discounted rate of €60 per person with bed and breakfast, or €50 per person room-only rate.
Ring the Hotel on 057 9346666 for booking details. We're looking forward to seeing you all there for a great night of fun and festivities!
Back