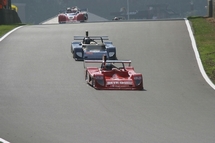 SPA ORWELL
23 May 2010
The weekend of 22/23 May 2010 saw the Orwell Championship travel to Spa for what was a hot weekend both on and off the track!
Driving his March 75S with 2-litre Connaught BDG power, Doug Hart was Connaught's representative for this meeting. After setting a good grid postion, he came through to not only win the 'winged' 2-litre class in both races but finish third overall each time - led home by two CanAm cars!
These two results put Hart into strong contention for overall Championship honours in 2010.
Back