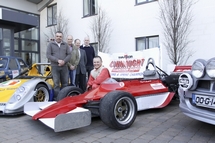 WEXFORD HILLCLIMBS
22 May 2010
CONNAUGHT COMPETITION ENGINES IRISH SPRINT AND HILLCLIMB CHAMPIONSHIP
THE HEAT IS ON!

WEXFORD, May 22/23: What a weekend of scorching action in Wexford! The promised fine weather came in abundance and with temperatures in the high 20s all weekend, the heat was most certainly on for rounds 5 and 6 of the Connaught Competition Engines Irish Sprint and Hillclimb Championship 2010.
The Saturday hillclimb was a new venue in Duncannon. This challenging course proved tricky and bumpy but quite rewarding to drive. Grip levels suffered in the heat as the tar began to melt later in the day, but four runs were completed. Dublinís Simon McKinley came out on top setting great times in the first and second run driving the Connaught Warrior engined Lant, choosing to forego more running when the tar began to melt. After a high speed spin on the second corner in his Pilbeam-Hart, Paul O'Connell finished second. He missed his third run after hitting the chicane and needed a fourth to finish within 0.58sec of the leader. Seamus Morris was third in his beautiful Pilbeam-Vauxhall MP62. The former Darrian driver is really settling into single seaters and getting quicker and quicker. Brendan Keane appeared unexpectedly on Saturday and, true to form, hit the pace straight away although unable to find that elusive second to catch Morris.
David James returned to hillclimb action with a mighty rallycross Mitsubishi Evo 6 with upwards of 600bhp. This mighty beast required all Davidís legendary sideways skill to tame it and he brought the car home a creditable fifth overall with John Byrne in the Leastone Formula 5 finishing just over a second behind him. There will be much more to come from Byrne when he returns with his Jedi, hopefully in time for the Dungarven event. Eanna Carroll continued his giant killing performances in the 4wd, 400 bhp Honda Civic Turbo with seventh overall just ahead of Wexfordís own version of Sebastian Vettel, Brendan Harpur. finished just behind Carroll. After some confusion over turning left or right at the junction, Harpur improved his times steadily to end up eighth in the 1.8-litre Delta-Ford. Stephen Gillis was snapping at Brendanís heels and just 0.26sec separated the two as John Mahon in his DJ- Hayabusa revved his way to tenth overall!

FTD: Simon McKinley (Lant-Warrior RT2) 46.92s; 2 Paul OíConnell (Pilbea-Hart MP58 Hart) 47.50s; 3 Seamus Morris (Pilbeam-Vauxhall MP62) 50.74s; 4 Brendan Keane (Swallow DR14 F3) 51.71s; 5 David James (Mitsubishi Lancer Evo 6) 52.10s; 6 John Byrne (Leastone F5) 53.60s; 7 Eanna Carroll (Honda Civic Turbo) 54.78s; 8 Brendan Harpur (Delta-Ford T81) 55.00s; 9 Stephen Gillis (Westfield-Vauxhall SE) 55.26s; 10 John Mahon (DJ-Hayabusa) 56.84s; etc.

Sundayís event saw more of the same roasting weather. After some rehydrating on Saturday night at the prizegiving the action re-started after mass on Sunday. With scorching hot weather there were some safety concerns about the tar on the first corner and a delay as sand was applied after the first run. McKinley had opted to sit this one out, saving his car for a trip to France the following weekend. So it was down to Paul O'Connell to deliver and this he duly did, with a time of 44.81 and new hill record, the big Pilbeam MP58 proving quite adept at fitting through the narrow chicane! He was followed closely all day by Seamus Morris in his MP62 all day, but then David James in the rallycross Evo hit the pace in a big way and edged out Morris to claim second overall by just nine hundredths as a bad start on his last run blunted Seamusís challenge.
Joe Courtney returned in his OMS Hornet to finish fourth overall, his best performance to date and just under a second behind Morris. John Byrne edged out Brendan Harpur to finish fifth. After his problems the previous day, Harpur was relieved there were no junctions on the hill! Seventh overall, Eanna Carrol continues to defy logic in his Honda Turbo and the little blue Civic is fast becoming a favourite on the hills. Stephen Gillis in his Westfield was just two tenths behind and ahead of Denis Hogan, who continues his ever improving run of finishes in the BMW M3. Ray Cunningham rounded off the top ten in his Mini, despite only doing one run on the day.
All credit to Wexford Motor club for running a successful event despite a myriad of unforseeable problems on both days Ė and best of luck to those competitors taking a trip to France next week!
FTD: Paul OíConnell (Pilbeam MP58 Hart) 44.81s (Outright hill record); 2 James 48.22s; 3 Morris 48.31s; 4 Joe Courtney (OMS-Suzuki) 49.29s; 5 Byrne 51.35s; 6 Harpur 51.54s; 7 Carroll 52.57s; 8 Gillis 52.78s; 9 Denis Hogan (BMW M3) 53.29s;10 Ray Cunningham (Mini) 53.39s; etc.

Back