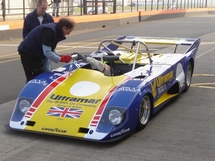 SPA CLASSIC ENDURANCE
8 May 2010
The first weekend of May saw the second round of the Classic Endurance Racing Championship at Spa, Belgium.
After finishing fourth overall at Paul Ricard a few weeks earlier, the 2-litre BDG powered Lola 296 sports car of Kevin Wilkins and Mike Catlow proved ideal for the fast sweeps of Spa. The duo faced strong opposition from a Porsche 936 and a monster 7-litre Ferrari 712, both with over 700bhp, while among a gaggle of other 2-litres trying for top spot were Busst/Freeman and Caron/Primrose.
After the scheduled hour of racing hour of racing, which at times was very close. Wilkins and Catlow made the podium with a fine second place, only losing out to the Ferrari by 37sec.
The team now look forward to Monza in June.
Back