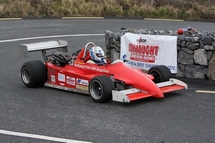 CONNAUGHT IRISH HILLCLIMB CHAMPIONSHIP, ROUNDS 2 & 3
25 April 2010
BALLYRYAN, April 24: The Connaught Competition Engines 2010 Hillclimb championship has really started to erupt! Like our Icelandic friends and their volcano it shows no signs of stopping - at least untill September anyway! After the dust had settled on a record-breaking weekend there was quite a story to tell.
Saturday in Ballyryan threatened rain but never really delivered on that promise. The early pace-setters were Simon McKinley in the Lant RT2, Sylvie Mullins in his Gould-Judd and, slightly further back, Paul O'Connell in his newly acquired Pilbeam-Hart. Mullins and McKinley battled hard all day and were eventually separated by the smallest of margins, Mullins posting a 43.40 - a new hill record but a mere hundreth of a second ahead of McKinley! O'Connell battled all day but never recovered from a slow start. Despite improving on every run he finished half a second behind the winner and perhaps rueing the decision to leave his trusty Delta at home.
Seamus Morris is really getting to grips with driving his new Pilbeam and improved his time to finish fourth overall. Fifth, and probably the surprise result of the weekend, was Galway's Eanna Carroll in his giant-killing Turbo Civic. The little blue Honda was absolutely flying all day and shamed a lot of single seaters! Brendan Keane survived handling problems and a broken diffuser, but finished just two hundredths behind Carroll. Joe Courtney was buzzing up through the field in his OMS Hornet and finished a highly creditable seventh overall on his first visit to Ballyryan in a single seater. Rory 'Grandad' Stephens started a weekend to forget with a puncture halfway up the hill, then gear selection problems restricted him to just one run all day. Trevor Cullen put in his now customary flawless drive in the Vauxhall engined G3 Escort, drifting his way to ninth overall. Dermot 'Swollen' Nolan rounded out the top ten in his Reynard 873 on a 54.66.
BALLYRYAN HILLCLIMB
Galway MC
FTD: Sylvie Mullins (Gould-Judd EV GR37) 43.40s (new hill record); 2 Simon McKinley (Lant-Warrior RT2) 43.41s; 3 Paul O'Connell (Pilbeam-Hart MP58H) 43.90s; 4 Seamus Morris (Pilbeam MP62) 98.20s; 5 Brendan Keane (Swallow DR14) 103.96s; 6 Rory Stephens (Radical) 110.19s; etc.
BALLYALABAN, April 25:
Sunday and the much anticipated annual pillgrimage to Ballyalaban started explosively. Simon McKinley set out on his first run and blew away the established hill record of 96.17 seconds, as he edged into the 95s. Sylvie Mullins, who had decided to sit the morning out with clutch problems, suddenly found himself in a battle to get his car ready to uphold local honour and missed the practice and first runs. Simon O'Connell put in a personal best of 97 seconds, four seconds quicker than his fastest time last year in the Delta. The battle continued, McKinley keeping the pressure on with an even faster run and O'Connell responded with a low 96. On the third and last run of the day, McKinley again went quicker to leave the hill record at 95.02 seconds. Mullins charged up the 600bhp Gould-Judd but at 98.20, he'd failed even to improve his time from last year. With a final tremendous effort, O'Connell put in managed to knock over a second off and finish just a hundredth adrift of the winner on 95.03! He'd been victorious in these situations before, but just could not do enough. For the second time that weekend, victory wast down to the smallest possible margins in another epic encounter.
Seamus Morris again got valuable mileage in his MP62 and steady improvement gained fourth overall. Dublin's Brendan Keane celebrated his return to Ballyallaban after five years with fifth overall in his Swallow single-seater. Rory Stephens chased him home, but compounded his problems on Saturday with an off on his second run. Despite the Radical sustaining damage, Rory emerged relatively unscathed but was sent to EnnisHospital as a precaution. Back home in Dublin he was in good spirits. Thanks from him to the medical staff and marshals on the day. Eanna Carroll was again mixing it with the big boys in his Honda Civic and put in a fantastic 133.36 to finish just one hundredth ahead of Alan Kessie's Gryphon. Thomas Corey in the Coogar Ralt V8 got the better of Dermot Nolan in his Reynard to round off the top ten.
BALLYALABAN HILLCLIMB
Galway MC
FTD: Simon McKinley (Lant-Warrior RT2) 95.02s (new hill record); 2 Paul O'Connell (Pilbeam-Hart MP58H) 95.03s; 3 Sylvie Mullins (Gould-Judd EV GR37) 98.20s; 4 Seamus Morris (Pilbeam MP62) 103.96s; 5 Brendan Keane (Swallow DR14) 110.00s; 6 Rory Stephens (Radical) 110.19s; etc.
Connaught Irish Championship: 1 McKinley 39; 2 O'Connell 35; 3 Stephens 22; 4 Morris 21; 5= Eanna Carroll and Keane 19; etc.
Back