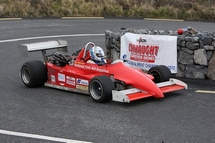 CONNAUGHT IRISH HILLCLIMB CHAMPIONSHIP GETS UNDER WAY
4 April 2010
BALLYVAUGHEN, April 3/4: Easter weekend saw the start of the Connaught Competition Engines Irish Hillclimb and Sprint Championship at Ballyvaughen in CountyClare. The Clare Motor Club ran a two-day event in sometimes difficult conditions, with wind and rain making the courses very tricky to drive.
On each day the overall battle was won by Dublin's Simon McKinley in his Connaught Warrior powered Lant, beating Limerick's Paul O'Connell who was debuting his ex.Jim Robinson Pilbeam-Hart MP58 hillclimb car, having decided to leave his trusty Delta at home. Prizegiving after the 'Corkscrew' hillclimb on Saturday night in Lougues Hotel in Ballyvaughen was a fun night for all involved, with the inevitable banter between competitors!
The second day brought slightly drier conditions. The 'Scalp' hillclimb is a favourite with all drivers and the extended 1.5 mile course was covered by the same top two, McKinley and O'Connell, in a stunning 59 seconds. That's an average speed of around 90 mph from a standing start over some very demanding roads winding their way through the barren landscape. To put that into further context, leading duo finished a staggering ten seconds clear of the rest of the field, an unheard of statistic in hillclimbing.
CORKSCREW HILLCLIMB
Clare MC
FTD: Simon McKinley (Lant-Warrior RT2) 56.00s; 2 Paul O'Connell (Pilbeam-Hart MP58H) 58.12s; 3 Brendan Keane (Swallow DR14) 60.98s; 4 Stephen Gillis (Westfield SEi) 60.98s; 5 Rory Stephens (Radical) 61.08s; 6 Ray Cunningham (Austin Mini) 61.23s; etc.
THE SCALP HILLCLIMB
Clare MC
FTD: Simon McKinley (Lant-Warrior RT2) 59.42s; 2 Paul O'Connell (Pilbeam-Hart MP58) 59.93s; 3 Rory Stephens (Radical) 68.10s; 4 Seamus Morris (Pilbeam MP52) 70.64s; 5 Anthony Halloran (Mitsubishi Evo9) 71.73s; 6 John Donnelly (Coogar Ralt RT1) 72.38s; etc.
Back