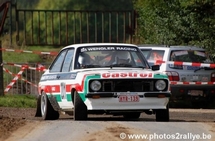 LUXEMBOURG HISTORIC RALLY
18 October 2009
With two new cars starting the Luxembourg Historic Rally, Team RSO were keen for a good result.
In his first Escort experience for many years, Pascal has taken his time building his car, as has Arnaud. . With Connaught supplying many power units for RSO by way of Warrior, BDG and Pinto, results were not long in coming.
Not only did Pascal and co-driver Marylene take overall honours but in his first event, Arnaud followed them home with in second place.
So a good event for both RSO and for Connaught/Warrior power!
Many thanks to all our Belgian customers for putting CCE on the International Rally map. Calls and mails are already coming in with drivers requesting information on our products.
Back