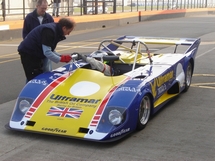 FINAL ORWELL ROUND
17 October 2009
Having played the Classic Endurance Racing field so far in 2009,Team Wilkins made the trip to Dijon to see how the 2-litre Lola-BDG 296 would fare against the Orwell Championship competion.
The result was a good one for the team, Mike Catlow not only winning his class in both races for 2-litre 'wing cars', but finishing third overall behind the Can Am and DFV powered cars.
Yet another good result for what really has been a test year for a car rebuilt over the winter, with a complete change of power unit from BMW to Connaught /BDG . This has meant a steep learning curve - a job which Steve Richards was left with.
The team are already making plans for 2010, as this is a Classic Le Mans year. So are Connaught. We've had good results at this meeting over the years and with a number of customers gearing up for that high profile race, watch this space in 2010!
Back