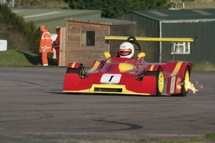 CLASSIC CLUBMANS SUCCESS
30 August 2009
With a win and a third place at Pembrey in August, Peter Harper has won the Classic Clubmans A Sport Championship for the fourth time. Having surrendered the title to Mark Charteris in 2008 after a year of bad luck, Harper regained this year's Championship from his rival with two races in hand.
The delighted Yorkshireman's long drive home from Wales was no doubt eased by the fact that a quartet of championships was finally in the bag.
Many thanks to Pete and to Andy, who has assisted him during every round this year.
Back