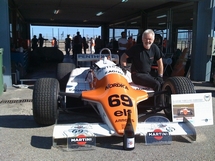 DONINGTON HISTORIC F1
27 July 2009
With the flyaway race in Brazil removed from the Historic F1 calendar. Donington was the replacement event. Having made the championship his own over the last six races, Rowland Kinch continued his run of success in the Arrows-DFV with pole , the race win and fastest lap.
' I got a good lead after six laps' he said, 'and the engine was not pushed past 9750. Short changing made for a good clean win.'
With the next round at the Nurburgring in September, another good result looks to be on the cards.
Back