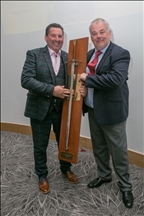 Connaugh Speed Champion
21 September 2019
After a hard fought season of Sprinting and Hillclimbs. James Hunt, who prefers Jim! Secured the 2019 BARC Connaught Sponsored Speed Championship. All down to the last meeting at Curborough near Litchfield.
Driving his red BMW E30, scored a perfect 10 on many occasions. Supported by his family allot of who compete themselves, he was a happy guy Saturday night at the awards Dinner.
Getting his name at last on that now famous sword !
Congratulations to all the winners. See you all again in 2020.
Back