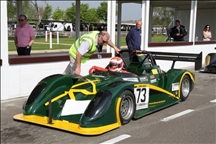 Coventry Moto Fest
2 June 2018
Round 6 Coventry Motofest Saturday 2nd June
Well, we really didn't know what to expect here. A ring road flyover, a sleeping city and a light drizzle? Well- we were to wowed big time. The drizzle stopped, the flyover paddock filled up and the crowds came- thousands of them! At 10.00am it was as if someone had thrown a switch and the street party that was Motofest was on. BARC Midlands had taken advantage of the new legislation and the first street event for some 28 years was our round 6 - 13 competitors were entered and this is how they fared
Reigning Champion Steve Riddle in the Renault Clio Cup dominated SB Standard Production 1400cc- 2000cc with a best of 92.06
Class SC for the over 2000cc split had Scott Hughes in the BMW M135i scoring consistent times to record a win on 88.90. Emma Hunts VW was a little outgunned in the Golf to take 2nd on a 100.83. Emma, however, had her hands full as she interviewed for BBC news and ran with one of their onboard cameras-
the championship was very well represented!
In 1A Road going series production up to 1400cc Andrew Rollason in the Ford Ka took the class on a 103.12
In 1C the over 2000cc split, James Hunt's BMW E30 was not on song and Jim put in a T1 time for 103.05 and then retired
3B Modified Series Production 1400-2000cc Callum Barney wheeled out the beautiful Cortina GT and took 2nd on a 98.03.
3C the over 2000cc split had Oliver Worthington's Nissan S14 taking 2nd place on a fine 86.58 with Mike Stark getting to grips with the Alfa Romeo 156 GTA
and taking 4th place on a 91.76- the big Alfa proving a handful in some of the chicanes! In 5th and after a spin or two Will Hunt in the Cossie Sierra set a best of 91.85.
4C Sports Libre up to 1700cc had Clive Woosters Radical up to 3rd Overall and BARC Midlands FTD with a best of 75.25
In 4D sports Libre 1701cc and over, Duncan Cowpers DAX Rush MC took 2nd Overall and 2nd in class on a 73.50. He was followed by Paul Norris's lovely Talbot Sunbeam in 5th on a 84.05 and Dave Walker in VW Golf Gti 16v in 8th on a 96.81. Interesting to see the BTCC represented in this class with Senna Proctors Vauxhall Astra on a 84.49
So the awards were presented from the music stage with Chris Hall MC'ing and our class winners being feted by the crowd- it'll make Curborough seem a bit quiet next time!!
Back