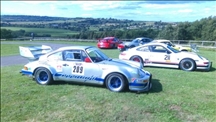 Bank Holiday Gurston
21 August 2017
The usual Gurston Bank Holiday weekend sees the 9th round of the Porsche National Hillclimb Championship.
Having decided to miss the 2nd visit to Wiscombe I ( Phil Price ) will be keen to do well in these last two rounds to get back to 3rd overall. Having been pushed back to 5th by Tim and David sharing their GT3.
Up front it's been a good fight between Paul and Peter, with consistency on Peter's part and 6 wins from Paul its really close.
So it a battle for 3rd spot, unless a major change should happen.
Hope to see you there !
Back