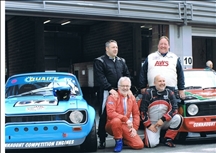 Spa Summer Classic
25 June 2017
The weekend of the 24/25 June saw the annual Spa Summer meeting. We always have a good turn out here. Due to the ease of journey and value for money entry and track time.
This year was no exception allot of customers making the pilgrimage . One of the these, Team Paxman, with Driver line up of Paxman, Harding and Crabtree took the now famous Blue Mk1 Escort. With its 2.0lt Warrior power unit.
Practice saw a great Pole time which placed them 3rd overall, so Team Manager and driver Tim Swadkin set a plan in place to put them in good stead for the 3 hour race. An only driver stop and change was the plan. So filled to the brim with fuel the race was under way. This strategy played well to their hands.
The end result a FANTASTIC 3rd overall. Well done Tony, Malcolm & Wayne
Back