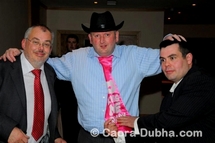 McKinley Champion
2 August 2014
Its official! With four rounds still to run, Simon McKinley has been crowned Irish hillclimb champion yet again. His main objective this year was to win the Naylor sponsored championship as early as possible, so he could be an early qualifier for the new FIA Hillclimb Masters event at Eschdorf, Luxembourg, this October.
Via Facebook, the championship organiser has already sent confirmation of McKinley's entry, so it'll be a good event to watch, I'm sure, with the family Lant-Warrior being put to great use again.
I'm sure he won't be holding back in his own local event at the Naul this coming weekend, either.
Simon is seen here on the right, after receiving recent awards, together with another Connaught customer, Dermot Nolan, and yours truly!
Back