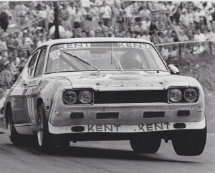 Le Mans Win !!!
5 July 2014
The weekend of the 5/6 July 2014 saw the 2-yearly running of the Classic Le Mans, a weather-affected meeting which meant a number of tyre changes for many competitors.
Doug Titford and Trevor Reeves took the former Capri Weslake to overall Index of Performance honours in the weekend's event. With a 15 minute advantage they could not be caught, even with the onset of a misfire towards the end of the last race . Brits filled several places in the top 20.
For ten years the team have tried to win at this meeting, with two 2nds and a 3rd place since 2004. At last, in 2014, it's the big one!
Congratulations to all.
Let's hope we can go back in 2016 and bring it home again.
Back