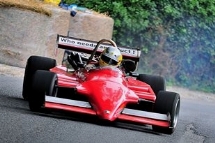 Naul 2013 Irish Hillclimb
17 August 2013
The Irish Hillclimb Championship moved to Naul, near Dublin, for the penultimate round of the series. Simon McKinley was in a position to wrap up the 2013 championship with two wins over the weekend., and with chief rival Sylvie Mullins non-starting his Gould GR37, this he duly did, winning the title for the fourth time in five years.
He was driving the family Lant 2.4 alloy-blocked Warrior to achieve the wins, but also took along his Escort powered by an iron-block version of the 2.4 Warrior 2.4, finishing fourth overall - a great effort.
Rory Stephens was second both days in the V8 Radical, assuring him of the sportscar crown for 2013. In the last few meetings Dermot Nolan has had to share various cars after issues which will see his car out for the rest of the season. But three good finishes will see him secure the Class 7 single seater division.
So with Donegal just to run there is still a lot to play for in both the main championship and in the classes.
Back