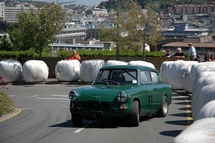 Simon's Historic FTDs
3 June 2011
At the Credit Suisse Jersey International Motoring Festival last weekend, Simon Le Rougetel took both car FTDs at Westmount (pictured) and Mount Bingham hillclimbs in his 1963 Ford Anglia, which is now for sale. After using this record-breaking car for many years, Simon had in recent weeks decided that it' was time to move on so this weekend of events was to be the Anglia's swansong in his hands.
The St Helier-based meeting attracts competitors from all over the UK and France, driving all types of pre 1970s cars. After his win, the very happy driver was rethinking his wish to sell. But it's time to move on, so if you're keen to own a piece of history, £31,000 will buy you this fuel injected 1850cc Super Saloon. Call us now for details!
With Friday's sprint at Victoria Avenue also on the agenda, Tim Forster's Elan enjoyed a three-day duel for 2-litre sports car class honours with Mark Rayment's MGB, finally taking the win at Sunday's Mount Bingham hilllclimb.
Back