ARMED ESCORT
Connaught Competition Engines are now the sole manufacturers of the Warrior twin OHC conversion of the Ford Pinto engine, which is FIA homologated as a Holbay unit for classic rallying, an arena in which it is currently enjoying great success. Previously, Warrior was owned by Richard Ive, who fitted one of the twin-cam units into his Mk1 Escort for tarmac rallying. The following article on Richard's car, by Simon Cooke, appeared in the March 2002 issue of Classic Ford, and is reproduced by kind permission of the magazine
According to Richard Ive, spending all that wedge on putting this Mk1 Escort together has been money well spent. "When I first drove it round the block (the day before Classic Ford turned up with its camera) it started to light up the rear tyres in third. I thought, 'this'll do me. You just know when the package is right.
With that sort of budget, perhaps you won't be to surprised to learn that the only second-hand items fitted are the heater and wiper motors, a couple of switches and the door handles, everything else is brand-new.
Richard, 45, is the owner and managing director of the Bellbrook Garages Group in East Sussex, whose main business is crash repairs. This Escort really marks his comeback to competitive motorsport. He turned his back on rallying, mainly on tarmac, about 15 years ago when things like family and building up his business became priority but now he's well and truly back.
Back in the early '90s Richard was looking for something to run alongside his blooming bodyshop business (it was good enough for him to own a Sierra Cosworth, Maserati and Ferrari at the time), so when Warrior went into receivership he decided to buy the company himself. He'd been a longtime fan of the Warrior cylinder head and had one of the first ever (Number 03) fitted to the 2.4 engine which powered his 4x4 Gartrac Escort several years earlier. No problems with sorting the engine for his new Escort, then, that was in the capable hands of Warrior's ace engine builder Tim Swadkin. (
When the company was bought from Richard by Connaught Competition engines later in 2002, Swadkin also moved to Connaught and continues to build Warrior engines – alongside many other types
).
With all the modern cars that had arrived since he last rallied, why go back to a Mk1 Escort? It seems Richard's not that interested in modern cars where they do everything for you, he'd rather drive a car where he can make some kind of input himself. However, he's not totally against progress; his everyday road car is a Tommi Makinen Evo IV Mitsubishi, which makes a Mk1 Escort look almost stone-age in comparison.
"What better noise is there than an Escort?" he explains. "With a BDA in the forest on a murky day you can hear it 10 minutes before it even comes into view. You can also hear when an Escort driver is lifting off – it goes off the boil. With a modern four-wheel-drive car with left foot braking and anti-lag banging, you never really know if he's really hard on it and, let's be fair, who wants to throw a £300,000 car into the scenery?" Fair point. Richard's cost less than £30,000, a much more sensible amount to chuck at the trees…
This is Richard's 17th Escort and he paid £4000 for a rollng shell which came with a lot of bits. However, the majority of the bits were soon stripped off and are currently sitting at the back of his garage as they aren't allowed in Historic rallying – it tries to keep everything to original-spec. Actually it wasn't rolling for very long.
The day after the car was dropped off, his entire industrial estate was flooded deep enough for cars to be floating around his car park (you may have seen it on the TV or in the papers). So floating rather than rolling is more accurate. I've seen the photos and very impressive they are too, though naturally that did cause a delay in the building process.
The engines were built just outside Richard's office and yes there's more than one. The hillclimb version produces 270bhp while the rally one is only 238bhp and those aren't just made-up figures either. Warrior has a state-of-the-art engine dyno This in-house facility allowed Richard the luxury of being able to do some engine development, especially with the rally cams, to improve the power spread (
today, Connaught-built Warrior units are developed to a much more advanced spec on Connaught's own dyno. For example, a 2.4-litre tarmac race engine on management – current price £17,750 – develops over 300 bhp
)
Meanwhile, the shell was sent down to Gartrac to do what it does best. The car was then returned and painted in-house by the Bellbrook Accident Repair Centre. It was then ready for final assembly. Unfortunately, work commitments meant that the completion job had to be handed out to HDT Racing in Hailsham and Richard is very happy with the job it has done. "I wanted to use modern equipment without using carbon fibre or making it look too new," he explains. "I was quite keen to retain some original character."
The engine spec at the moment might have to be changed as Richard isn't quite sure if regulations mean he has to switch to 48s rather than the 50mm Weber carbs that are currently fitted. If he does, he thinks he could lose up to 10 bhp but that should be balanced out by the less restrictive and larger (4 inch rather than 3.75) exhaust system that has yet to be fitted.
This year he's planning to compete once again on the tarmac events in Europe – his old stamping ground – and also hopes to make his debut on the infamous roads of Ireland. "I expect to either bring the car back from Ireland in a cardboard box or get severely beaten," he admits, "and I'll probably acquire a serious liver problem at the same time!" Yup, Guinness, in large amounts – apparently an essential part of Irish rallying – isn't necessarily good for you.
Obviously, owning a crash repair business, Richard is well placed should the worst happen and he's quite happy to reveal that there is already a sweepstake running at work for how long before he's booking his car in for some panel work! Personally he'd rather his staff have a long wait between his first event and the need for any repairs, but nevertheless promises that he'll always be driving the Escort as it should be – at 10 tenths. Perhaps they won't have to wait that long then.
ESCORT Mk2 TECH SPEC

Body
AVO shell, steel bubble arch extensions, rear Group 2 turrets, large diff tunnel, steel firewall, gusseted front chassis rails, skid plated sills and chassis rails, large radiator aperture, additional air intake, reinforced bulkhead, fully seam welded, six-point roll cage with bolt reinforcements to A and B pillars, side bars.
Engine
Ford 2-litre Pinto, 2046cc (bore 92mm), 76.95 mm billet steel crankshaft, forged alloy pistons, steel flywheel, two gallon dry sump, 19-row oil cooler, twin Facet fuel pumps, Warrior Holbay 16-valve twin-cam cylinder head, 50/48 mm Weber DCOEs, DA10/DA19 cams, 12 gallon fuel tank, 238 bhp at 7500 rpm. Hillclimb version 270 bhp at 8000 rpm, 205 lb ft at 5500 rpm.
Transmission
Four-speed Rocket, straight-cut, RS bellhousing, hydraulic clutch, single-piece propshaft, Atlas axle, ZF multiplate LSD, two-piece halfshafts with alloy hubs.
Suspension
Front: World Cup crossmember, Bilstein adjustable platform front struts, roller top mounts, rose-jointed TCAs. Rear: Slipper springs, turreted Bilstein gas dampers, Panhard rod, four-link locating bars.
Brakes
Front: AP four-pot (forest caliper), vented discs. Rear: Two-pot calipers, solid discs, bias-adjustable pedal box.
Wheels and tyres
6x13 inch Minilite alloys with Avon/Dunlop/Yoko 185/70x13 tyres.
Interior
Corbeau Pro Kevlar seats, usual safety/competition equipment, Luke FIA six-point belts.
Back to Warrior page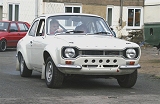 (click to enlarge)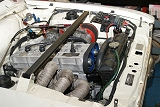 (click to enlarge)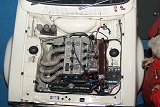 (click to enlarge)
The photos, taken in 2003, show the car returned to 2-litre historic spec at Connaught for a new owner.